Customize your own Self-Evolution Flag & Let Your Creativity Soar!
The Self-Evolution Flag Collection is a reminder that we are all creative beings. Yes, that's right, YOU are creative! Being creative is not about drawing a straight line, nor is it an exclusive club meant only for those who practice visual arts. We ALL express creativity in its infinite forms. Maybe you are a creative problem solver, a master in the kitchen, an avid gardener, a connector of people, or an amazing storyteller?
This is an opportunity to CREATE a flag that feels special to you. My intention and hope is that each time you see YOUR OWN FLAG you are reminded of the power and joy that living a creative life brings.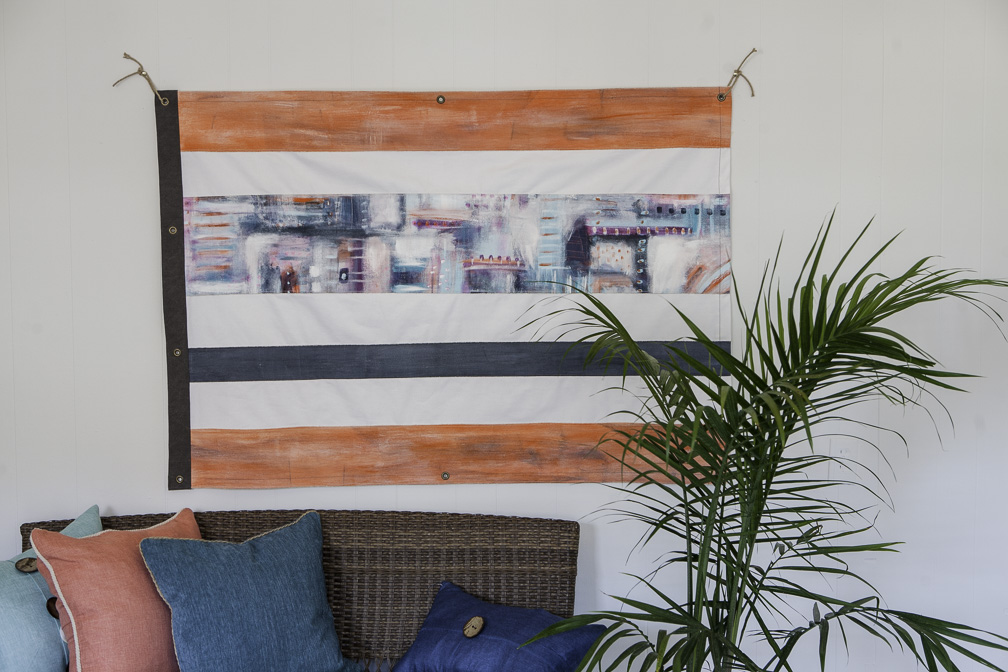 "The Self-Evolution Flag Collection celebrates the creativity in all of us, and serves as a reminder that if we follow our intuition and live in the flow of our own truth, it is possible to find joy and peace every day."
Carolyn Mackin
Step 1: Choose your Design. 'Corner X' or 'All Stripes'. (see below pics).
Step 2: Choose your painting. Select from a variety of original hand-painted abstract art. Each painting provides enough 'fabric' to make 5 flags. Once that painting is sold out, it is gone forever.
Currently available paintings are listed below. New original hand-painted abstract art will be added as I complete them. Contact me if you have an idea for a color palette!
Step 3: Choose your solid stripe colors. If you are doing a 'Corner X' design, choose 1 color, if you are doing an 'All Stripes' design, choose 2 colors.
Step 4: Choose your logo. Select either the original stamp design, or choose your favorite zip code, airport call code, your monogram, or special date.
All of the info on this page is meant to help clarify your options. Please contact me with additional questions. To place a CUSTOM order, go to the CUSTOM FLAG listing. Once you add the flag to your cart, you will fill out a form to specify your selections.